Our new, silver next-gen ebike can only be docked at Bay Wheels stations. It boasts a larger battery, integrated LCD screen and the ability to be charged while docked at a station. Our original black ebike is hybrid and allows you to dock at any Bay Wheels station or use the cable to lock to any bike rack within the service area. Anyone with a Bay Wheels membership will have access to discounted ebike prices.
Pay as you ride
Annual and monthly members who choose an ebike will pay $0.15 per minute with no unlock fee, and non-members will pay $0.30 per minute with a $3.49 unlock fee. These fees help cover the additional costs of batteries and charging. All per-minute ride prices are rounded up to the nearest minute.
Bike Share for All members will pay a discounted rate of $0.05 per minute for ebike trips, with all per-minute fees capped at $1.
For annual and monthly members, the per-minute ebike charges are capped at $2 for rides that start or end in neighborhoods currently less connected to transit.
| | | | |
| --- | --- | --- | --- |
| | Member | Non-Member | BSFA |
| Unlock Fee | $0 | $3.49 | $0 |
| Per Minute Ebike fee | $0.15 | $0.30 | $0.05 |
| Overage Fee | $0.20/min after 45 min | $0.30/min after 30 min | $0.13/min after 60 min |
| Out-Of-Station Parking | $2 | $2 | $2 |
| Per Minute Ebike Fee Cap | $2* | N/A | $1 |
*Capped at $2 for rides that start or end in certain neighborhoods, see map below.
New fee waiver zone and fee cap zone boundaries take effect 11/2/23.
Click here to open a dynamic map of the different ebike pricing service areas in San Francisco.
Map 1: Parking Fee Waiver Map
The pink area above represents our out-of-station parking fee waiver area. You will not be charged an out-of-station fee when you use the cable lock on one of our original black ebikes to end your trip in this area.
Additionally, you may park our black ebikes at virtual stations throughout the service area without incurring a parking fee. Virtual stations are clusters of designated public bike racks. Refer to the pins on the map above, or check your Bay Wheels app for virtual station locations.
Map 2: Member Ebike Fee Cap Zone
Bay Wheels members ending their ride in the pink area depicted above will see their ebike fees capped at $2 per 45 min ride.
Click here to open a dynamic map of the different ebike pricing service areas in San Jose.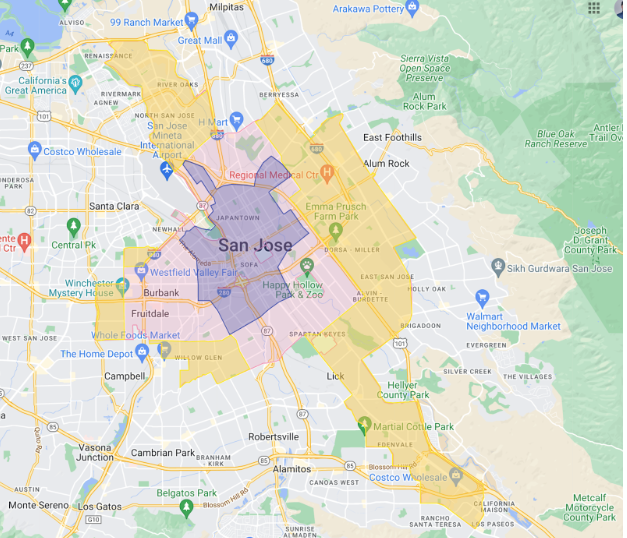 Ebike Parking
Dock all ebikes at any Bay Wheels station for free.
Parking a black ebike outside a docked station using a cable lock will cost $2.
This fee will be waived if the bike is parked near a station with no empty docks available, locked to a virtual station, or locked to a bike rack in our out-of-station fee waiver zone. Refer to Map 1 above for details.
Ebike Parking Violations
Parking violations — including locking the ebike to itself, private property, trees, or any other structures as well as blocking pathways, sidewalks, or ramps — incur a $25 fee. You'll be charged a $25 fee for parking your ebike outside of the service area.