This first-of-its-kind hybrid ebike allows you to dock at any Bay Wheels stations or use the cable to lock to any bike rack within the service area. Anyone with a Bay Wheels membership will have access to discounted ebike prices.
Pay as you ride
Annual and monthly members who choose an ebike will pay $0.15 per minute with no unlock fee, and non-members will pay $0.20 per minute with a $3 unlock fee. These fees help cover the additional costs of batteries and charging.
If an ebike is the only option at a station, these per-minute fees will be waived. Per-minute ebike fees also do not apply in San Jose.
Bike Share for All members will pay a discounted rate of $0.05 per minute for ebike trips, with all per-minute fees capped at $1.
For annual and monthly members, the per-minute ebike charges are capped at $2 for rides that start or end in neighborhoods currently less connected to transit.
Click here to open a dynamic map of the different ebike pricing service areas in San Francisco.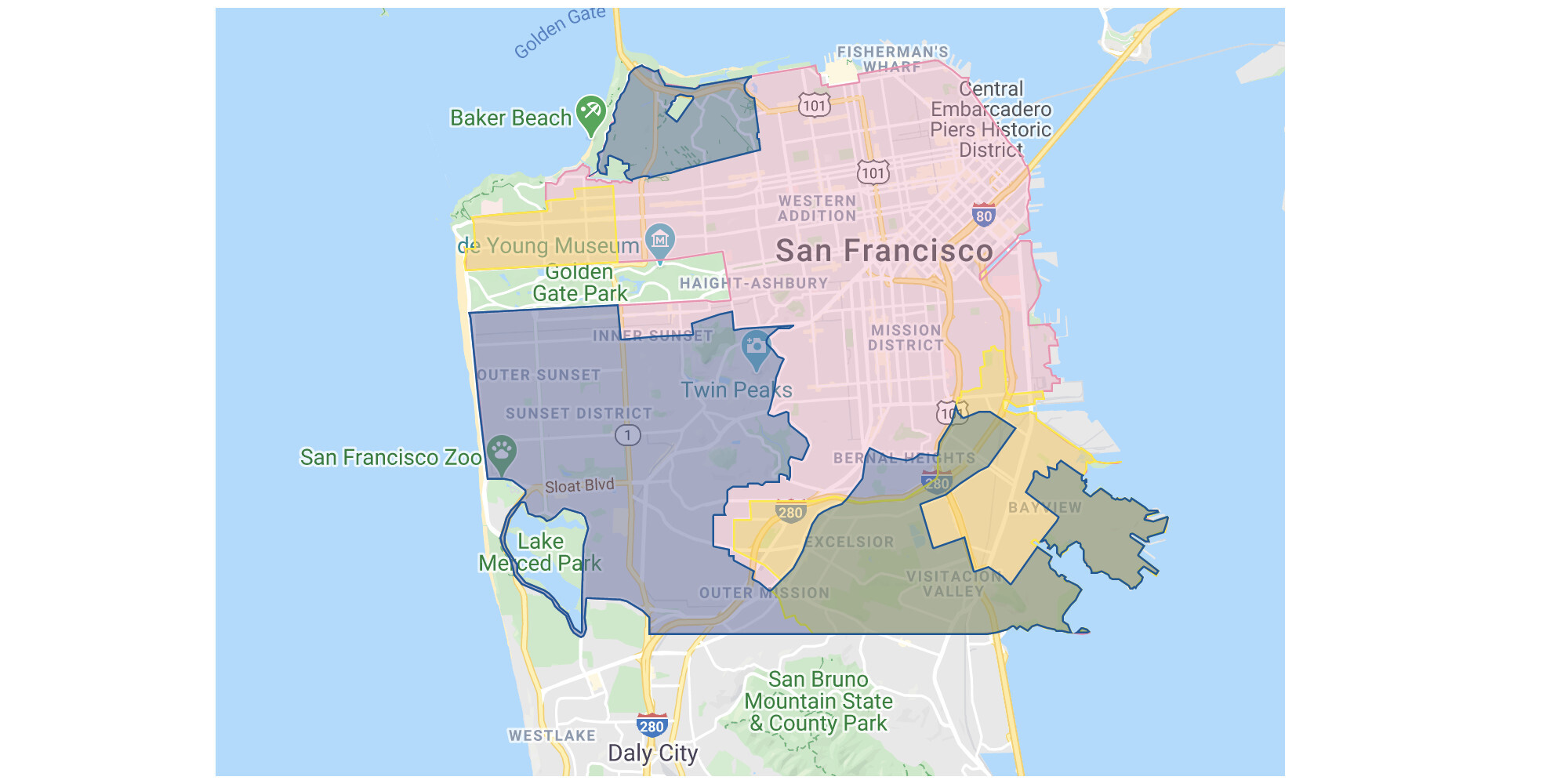 Ebike Fee Price Breakdown for Neighborhoods Less Connected to Transit
| | | | |
| --- | --- | --- | --- |
| | Member | Non-Member | BSFA |
| Unlock Fee | $0 | $3 | $0 |
| Per Minute Ebike fee | $0.15 | $0.20 | $0.05 |
| Out-Of-Station Parking | $2 | $2 | $2 |
| Per Minute Ebike Fee Cap | $2* | N/A | $1 |
Capped at $2 for rides that start or end in certain San Francisco neighborhoods, see map above.
Ebike Parking
Dock ebikes at any Bay Wheels station for free.
Parking an ebike at a bike rack, not docked at a station, will cost $2.
This fee will be waived if the bike is parked near a station with no empty docks available, or locked to a bike rack in part of the service area without stations.
See map of service area above.
Ebike parking violations
Parking violations — including locking the ebike to itself, private property, trees, or any other structures as well as blocking pathways, sidewalks, or ramps — incur a $25 fee. You'll be charged a $25 fee for parking your ebike outside of the service area.
Extra Time Fees
If you keep a bike out longer than the allowed time, members will have an extra charge of $2 for each additional 15 minutes. Non-members will be charged $3.
| | |
| --- | --- |
| Ride Type | Allowed Time |
| Single Trip and Access Pass | 30 minutes |
| Annual and Monthly Members | 45 minutes |
| Bikeshare for All Members | 60 minutes |